2023 Inner Child Movement & Mindfulness Retreat
September 22-24, 2023 Whitestone, Ontario
Join us for a chance to nurture your inner child through a weekend of Lila (divine play) through movement and mindfulness activities at a private retreat property in Lake Wahwashkesh, Ontario with Dawn (Registered Yoga Teacher & Therapist) and Vela (Breathwork Facilitator, Reiki Healer, and Yoga Instructor)
Getting there is your responsibility (2.5 hours north of Toronto Pearson airport) but as soon as you arrive, the adulting ends and we will spend the weekend doing cannonballs off the dock, playful yoga, and eating vegan s'mores during fireside dance parties, while going deeper with a ceremony, breathwork, cold plunging and sound healing.
This retreat includes all accommodations, meals, activities, and a special ceremony to allow us to connect deeper with our inner child.
This retreat is for those 21+.
Due to the therapeutic nature of this retreat, this retreat may be partially covered by extended health benefits where counselling by a Registered Social Worker is a benefit (to a maximum of $525)
The details:
Set on a private peninsula on Lake Wahwashkesh in Whitestone, Ontario, this retreat property will allow you to truly connect with nature. The site features a small cabin featuring a woodstove, full kitchen, private bedroom, loft, and full washroom with shower. All retreat participants will have access to the main cabin, however those booking into the bedrooms will have their privacy. 
Additionally, there are two small bunkees with access to a shared outdoor washroom (no shower, just toilet and sink with running water) and we have a limited number of tenting sites (bring your own tent!) for those who prefer the outdoors. 
This retreat property is boat access only which will be provided on demand (no waiting!) with free parking available at boat launch. 
Sample Itinerary (subject to change)
Friday September 22, 2023
2:00 pm – 5:00 pm – Arrival, check in, free time
5:00 pm – Welcome happy hour with non alcoholic drinks and appetizers with Dawn
6:30 pm – Breathwork with Vela
8:00 pm – Dinner
9:30 pm – Campfire, or Sacred Sound Healing with Colleen
Saturday September 23, 2023
7:00 am – Cold Plunge and meditation with Vela
8:00 am – Free flow – yoga, dance, breath with Vela
9:00 am – Breakfast
10:30 am – Play! Camp games – scavenger hunt, friendship bracelets, all your favourite camp games! Or free time to explore, kayak, canoe, meditate by the waterfall, etc. 
12:30 pm – Lunch
2:00 pm – Outdoor Breathwork with Vela
3:30 pm – Playful Yoga with Dawn
4:30 – 5:30 pm – Play! or free time to forest bath, journal, turn inward. 
5:30 pm – Dinner
7:00 pm – Sunset paddle (canoe, kayak or SUP)
8:30 pm – Psilocybin Ceremony with Sound Journey and Yoga Nidra
Sunday September 24, 2023
7:30 am – Cold Plunge with Vela
8:30 am – Morning Yoga and journalling for reflection with Dawn
10:00 am – Brunch
11:00 am – Departure and Goodbyes
*although meal times are set, there will be plenty of access to snacks throughout the retreat to ensure your inner child is nourished!*
Accommodations:
Please read each accommodation type carefully and ensure you are booking the correct one. Email dawn@rvnwellness.com if you are uncertain.
Only tent spots remain – email dawn@rvnwellness.com for waitlist for other spaces.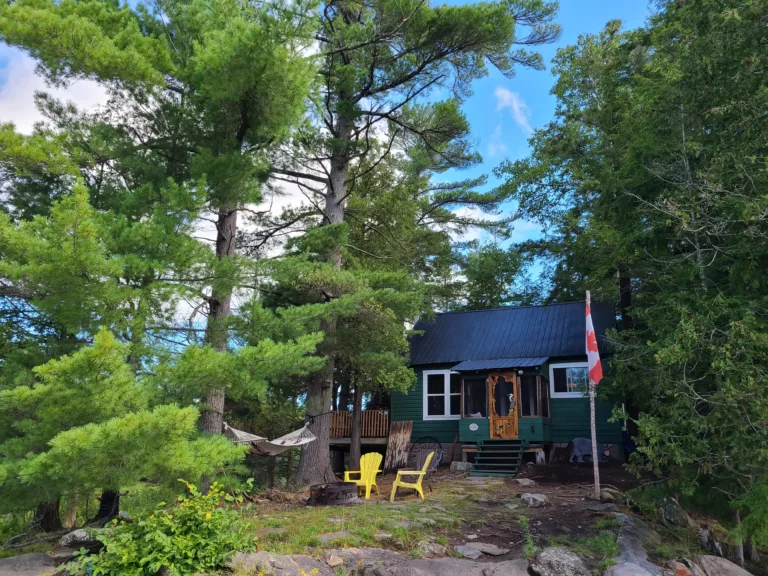 Enjoy the privacy of this Master Bedroom with a Queen size bed all to yourself. This option is inside the main cabin with access to a shared full washroom, kitchen, and lounge with wood burning stove.
Price includes accommodations, all meals, and activities.
Sharing with a friend? This option is for one queen bed shared with a friend (no strangers) and requires two friends to book separately and indicate you would like to share a bed. Stay inside the main cabin with access to a shared full washroom, kitchen, and lounge with wood burning stove.
Price includes accommodations, all meals, and activities.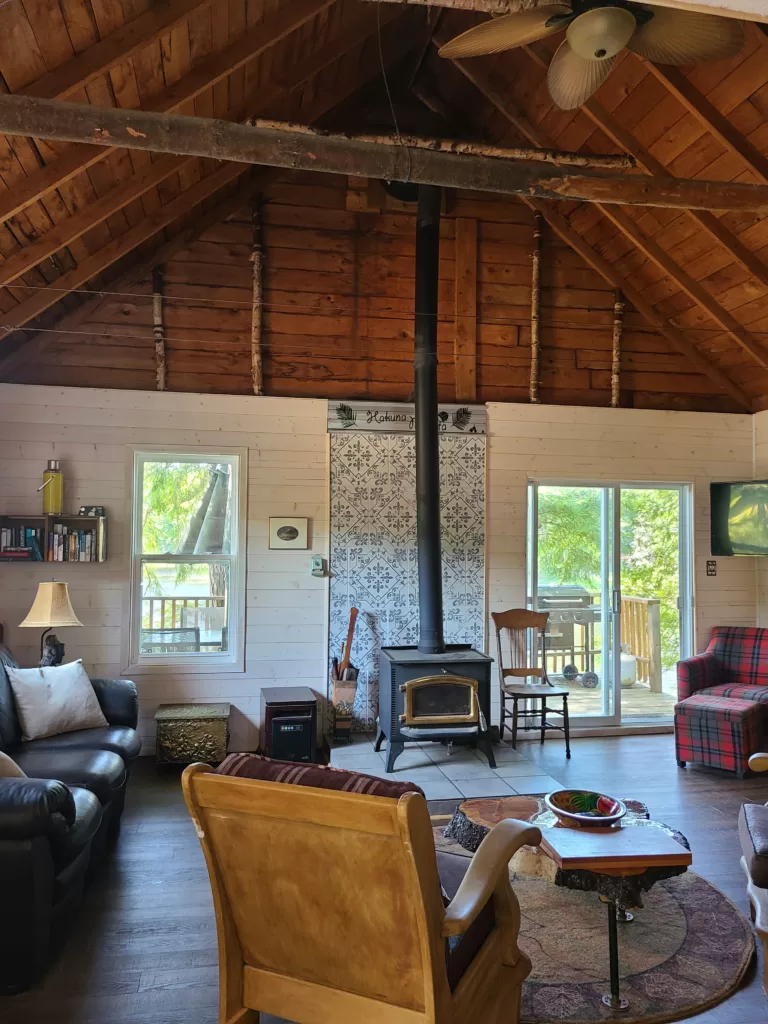 Set inside the main cabin with access to a shared full washroom, kitchen, and lounge with wood burning stove, this option is to reserve the open air loft all to yourself with two single beds.
Price includes accommodations, all meals, and activities.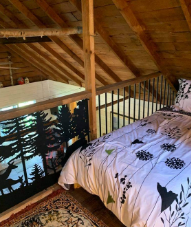 Main cabin - loft (double occupancy) $700 p/p - SOLD OUT
This option is for one twin bed located in the loft of the main cabin. The other twin bed in the loft will be occupied by someone we pair you with, or if you'd like to share with a friend, please indicate when booking!
Price includes accommodations, all meals, and activities.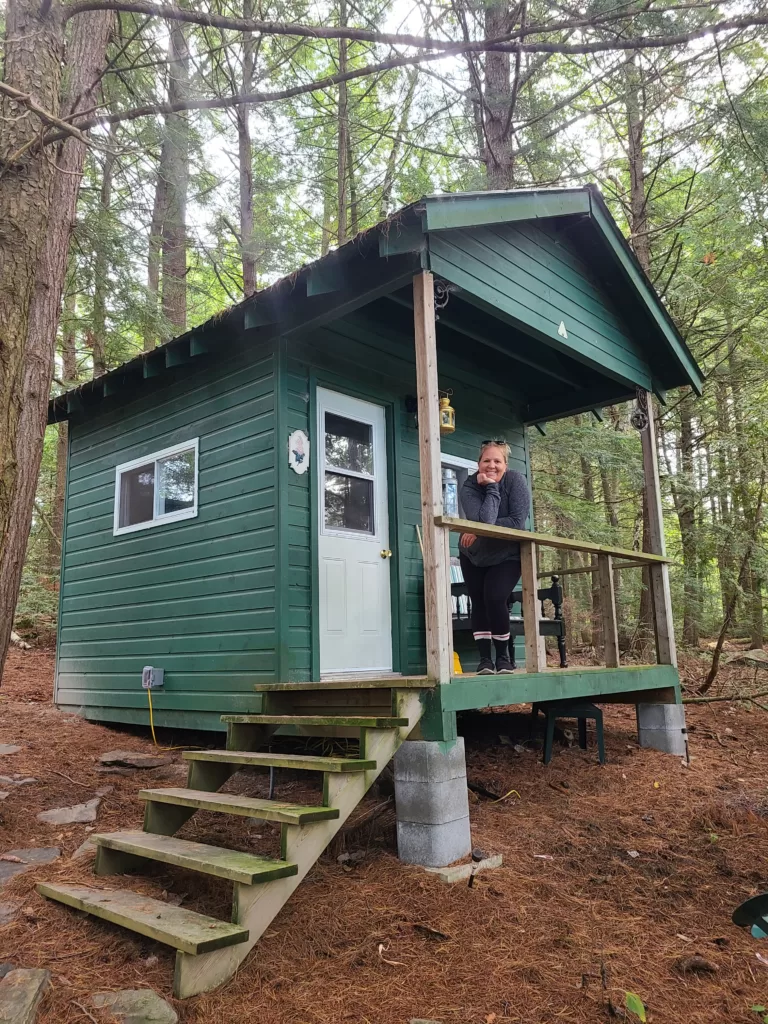 A private bunkee all to yourself! Featuring one queen size bed, there is no washroom inside the bunkee however there is an outdoor washroom (with running water) nearby.
Price includes accommodations, all meals, and activities.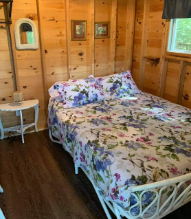 For those close friends happy to share a small space and a bed, this option is available for two friends booking together (must book two spots) Includes a private bunkee for two and access to the outdoor washroom nearby.
Price includes accommodations, all meals, and activities.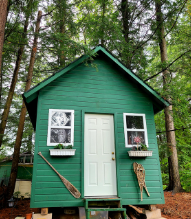 This bunkee has a bunk bed with a double bed below and a twin on top and this booking option is to have the entire bunkee to yourself! There is no washroom inside the bunkee but an outdoor washroom nearby.
Price includes accommodations, all meals, and activities.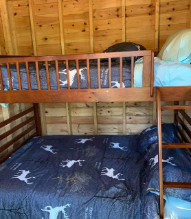 True summer camp vibes with this option which is for sharing the bunkee with one other person (how will you decide who gets the top bunk?) and access to the outdoor washroom.
Price includes accommodations, all meals, and activities.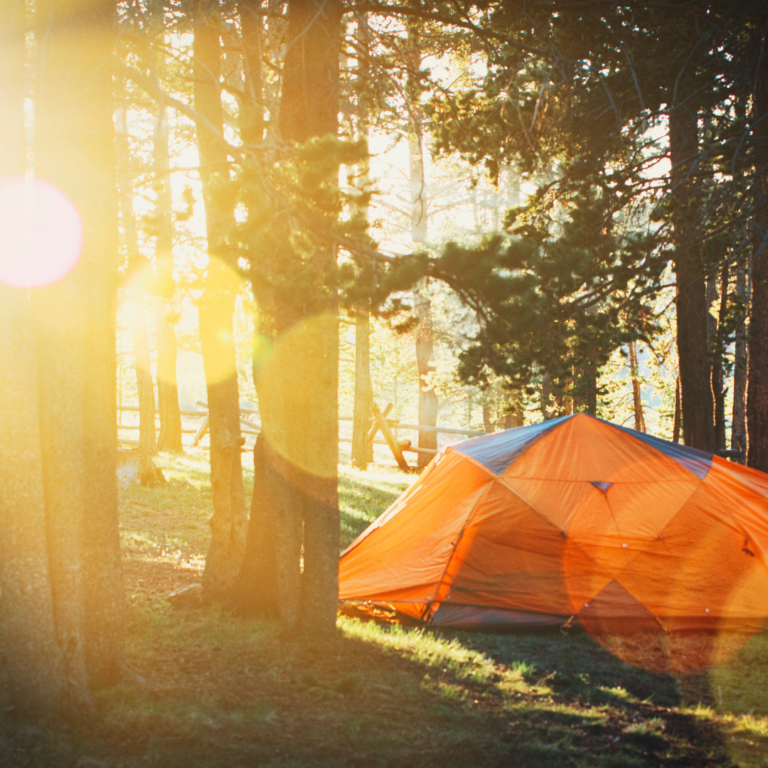 If you want to fall asleep to the sound of the waterfall and nature, this option may be for you! You do need to bring your own tent and sleeping bag, but you will have access to the outdoor washroom, and of course, all activities and meals are included!
Frequently Asked Questions:
Can I book alone?
Absolutely! We have several options for those coming on their own and just like summer camp as a child, we hope you will leave with new friends at the end of the weekend!
What if I don't have any experience with yoga, breathwork, sound healing, or psilcobyin?
No problem! All our offerings are accessible to everyBODY and completely optional. Our intention is to provide plenty of choice for participants to choose activities that serve their intention!
What time is arrival/departure?
You are welcome to arrive earlier (additional nights can be purchased at an additional cost, but programming begins on Friday September 15 at 5:00 pm and ends on Sunday September 17, at 11:00 am.

How do I get there?
You are responsible for getting yourself to the retreat centre and clear directions will be sent. Once you arrive, put down your car keys the adulting ends and you can let your inner child out. We will take care of the rest. If you are interested in carpooling, please indicate so when booking. The retreat centre is not accessible by any public transportation.
Can I bring my child/pet?
This camp is for adults to nurture their inner child and such, is for ages 21+. If you are booking additional nights, you may be able to have your child/pet accompany you.
Is there wifi?
There is no wifi for retreat use, however there is cell service in the majority of the retreat area for major cell phone carriers.
Do you accommodate special diets?
Our menu will be fully plant based with gluten free options, but please email with any additional restrictions to ensure you can be accommodated.
Is there a store where I can purchase any additional snacks/items?
The nearest town is approximately 45 minutes away by car.
What is not included?
– transportation to the boat launch (free parking) in Whitestone, Ontario
– any specific snacks or indulgences such as alcohol or cannabis
– tent and bedding for the tent spots (bedding is provided for the cabin and bunkees)
Additional nights at the retreat centre can be booked for before/after the retreat subject to availability. Main cabin: $150/night (whole cabin) or bunkees ($100/night)
What is your refund policy?
Cancellations received prior to August 15, 2023 will receive a full refund minus a $50 administrative fee. Cancellations between August 15, 2023 and September 8, 2023 will receive a 50% refund. Cancellations after September 8, 2023 are not eligible for refund, however your spot is fully transferable and you are welcome to gift/sell to someone else (just let us know so they can sign the waivers!)
How does coverage with extended health plans work? Do you bill directly?
Unfortunately therapists cannot bill extended health plans directly. We do require you to pay upfront and then you will receive receipts following the retreat which you can submit. If you have counselling by an RSW (not RCC or any other designation, only RSW) you may have up to $175/day covered by your insurance company. We cannot issue receipts for more than $175 as this is the cost for one session of therapy which is the value of each of the retreat. You can direct any further questions about insurance coverage to your extended health provider.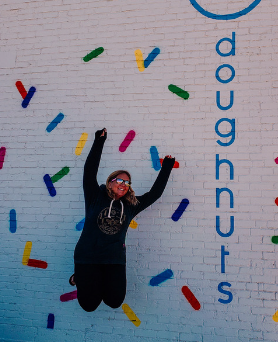 Dawn Slykhuis, MSW, RSW, ERYT-200
Dawn Slykhuis, MSW, RSW, YTT-200, owner of RVN Wellness is a therapist and yoga instructor. Dawn believes it is our vulnerability that connects us as humans, making her classes suitable for all levels, including anyone who has never done yoga before. Dawn's therapy practice and yoga teachings are grounded in the principles of ahimsa (non violence) towards ourselves, and towards our outside world and incorporates knowledge from yoga philosophy, plant medicine, and clinical Social Work. When not practicing yoga, as a world traveler, she is known to jump on a plane with little notice, or can be found practicing gratitude for where she lives while enjoying a vegan donut with her rescue dog near the mountains or the ocean.
MILENA VELA CANTA specializes in personal and professional development through Breathwork and mindful movement. She is the proud owner of Vela Academy and serves the community as a Breathwork Facilitator, Dance & Yoga instructor. Her purpose is fuelled by witnessing people step into their power and courageously discover the joy and freedom life has to offer. Her passion is helping people reclaim their authenticity by using Breathwork and Movement to uncover their core values and beliefs.